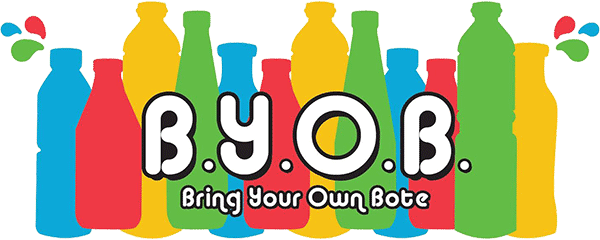 LET'S BUILD A ZERO WASTE
COMMUNITY ONE REFILL AT A TIME
#BRINGYOUROWNBOTE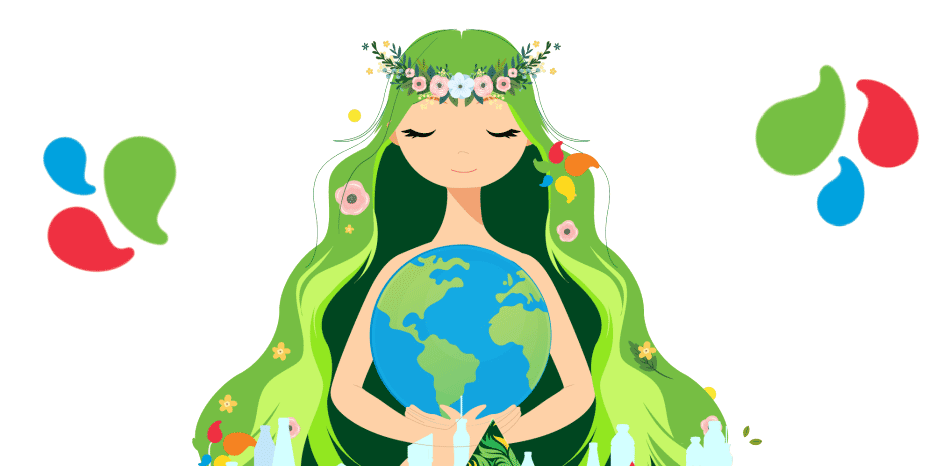 WHAT IS BYOB?
BYOB stands for Bring Your Own Bote. It is a zero-waste store where people can refill their favorite NutriAsia products like Datu Puti Condiments, Golden Fiesta Oil, and more
BYOB's store is made out of eco-bricks that use plastic discards as a component.The store also serve as a drop-off point for plastic materials for repurposing.
Get your favorite condiments and products in BYOB!
Find a BYOB Store Near You
BYOB in BGC
Locaton: The Mind Museum
Operating Hours: Monday to Sunday,
10 AM to 7 PM
Order Online Here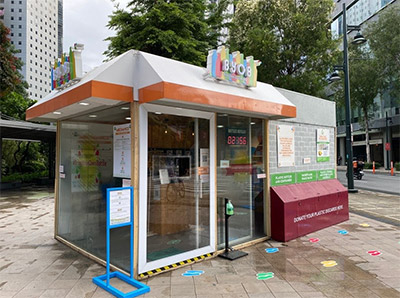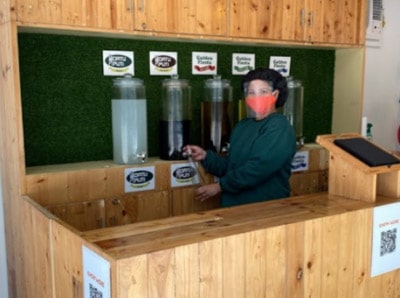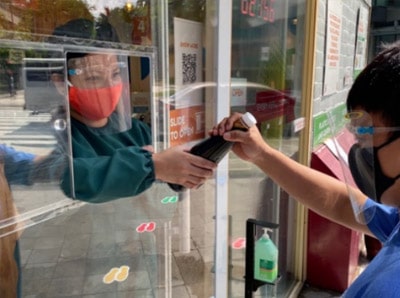 BYOB in QC
(In partnership with the Quezon City LGU)
Locaton: Quezon City Hall Compound
Operating Hours: Monday to Friday,
8 AM to 5 PM
Order Online Here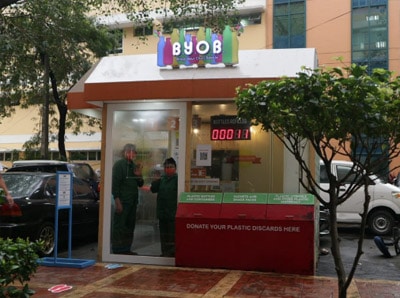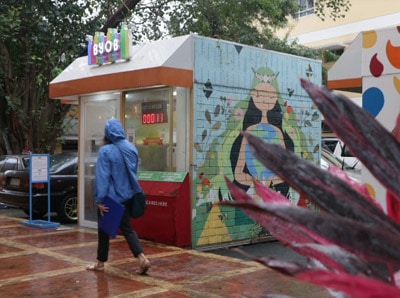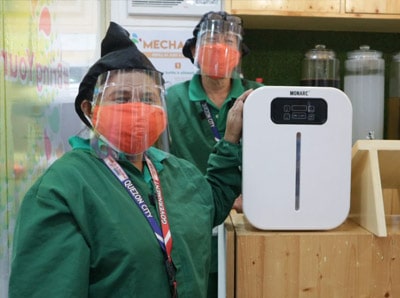 Refill safely in 4 easy steps
Order and register online: for BGC, click here, for Q.C. click here

Check if your bottle is allowed for refilling. You may also buy sanitized refillable glass bottles in the BYOB booth if you don't have an existing reusable bottle. Before going to the booth, make sure your bottles are:

- Clean bottle with clean lid/bottle cap
- Dry
- Safe to be used for food products

Sample types of containers/bottles which are allowed:

- Mineral Water Bottle
- Juice/Soft drinks Bottle
- Bottles used as container of the same items to be refilled
(e.g. catsup, soy sauce, vinegar, cooking oil)

The bottles should not be:

- Damaged (e.g. no holes, no significant dent, etc)
- Used to store non-food or toxic products
- Wet
- Dirty
- Has smell that might be from any type of chemicals or non-food items like paint, gas, etc.

Sample types of containers/bottles which are not allowed:

- Plastic bag
- Paper bag
- Bottles used to store cooking oil cannot be used to refill with other condiments like soy sauce and vinegar
- Containers/bottles used to store non-food items such as detergents, liquid soap, fabric softener, crude oil, or any type of chemical.

Sterilize your bottles in our UV Sterilizer Cabinet

To ensure your safety, please allow our staff to sterilize your bottles for 15 minutes before refilling.

Refill your chosen products

Minimum refill amount is 200 g while maximum amount is 2 KG

Weigh your bottles and pay
OUR BENEFICIARY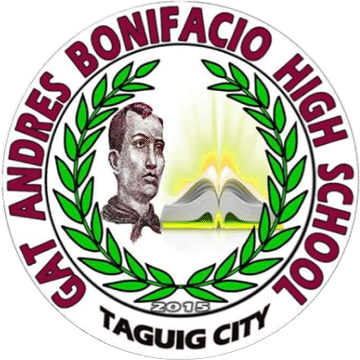 Gat Andres Bonifacio High School
All repurposed plastic furnishings will be donated to our beneficiary, Gat Andres Bonifacio High School.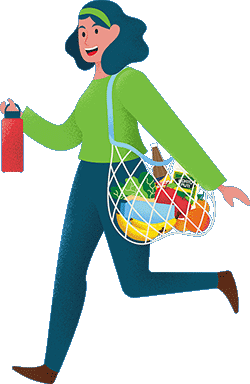 READY FOR YOUR WATER REFILL?
Show this unique QR code in front of the machine's camera. Position your bottle correctly and wait for the water to dispense.
Note: The beverage dispenser's door opens and closes automatically.
BYOB Activation Introduction
The Bring Your Own Bote ("BYOB") dispenser is an official promotion that's open to the public. Through this activation, you will be allowed to refill water or NutriAsia, Inc. ("NutriAsia") products such as Locally using your own containers.
All participants in the BYOB dispenser activation should at least be 18 years of age and above and will be required to read and agree this waiver and consent form.
WAIVER AND CONSENT
I, of legal age, am willingly participating in the Bring Your Own Bote ("BYOB") project at NutriAsia Bus Station in BGC, Taguig City. As a participant to such event, I hereby agree and consent to the following conditions:
I agree to bring my own container to be able to participate in the BYOB activation. I hereby declare and confirm that the container/s that I will use is/are clean, dry, safe for food, and have not been used as container to any products which may be harmful to me or whoever will consume the products which I'll refill. In this regard, I will hold Nutri-asia, Inc. ("Nutri-Asia") free and harmless from any liability or damage which may arise from the use of products in this BYOB event.

I understand, agree and consent to that the taste or quality of the products in the activation event may be affected by the material of the container that I will use for refilling. I acknowledge and agree that Nutri-Asia has offered no warranty, guaranty, claim or representation regarding the safety and quality of the products that I will receive in the event.

Nutri-Asia, its subsidiaries, affiliates, employees, directors or officers did not force me to participate in the event. As such, I hereby expressly and absolutely agree to indemnify and hereby release and discharge and by these presents, does forever discharge Nutri-Asia, its subsidiaries, affiliates and their respective stockholders, directors, officers, employees, agents, representatives, assigns and successors, as well as its partners, service provider, and contracted agency agency from any and all liability, claims, demands, illness, injuries, side effects, damages, actions and causes of action related to products refilled during the BYOB event.

I agree that I have sole responsibility on the use and consumption of the products refilled from the BYOB activation. I further agree to not use the products in any way other than its intended use.

With regard to the information that I may be asked to submit, I hereby agree to:

Collect and process my Personal Data, as provided and defined under applicable laws, regulations, and Nutri-Asia policies, for its subsidiaries and its affiliates' and partners' purposes;

Make my Personal Data available to Nutri-Asia, and its subsidiaries , its affiliates and partners for them to process the Personal Data for their own benefit and purposes, such as keeping personal information of individuals allowed to enter the premises of its facilities for safety, security and other related purposes; and

Make my Personal Data available, and to permit Nutri-Asia, and its subsidiaries and its affiliates and partners also to make your Personal Data available and also to third parties who provide products or services to Nutri-Asia, its subsidiaries, its affiliates and partners for the same purposes as described above; and to other third parties, where required or permitted by law, including regulatory authorities, government agencies, as well as parties with whom you voluntarily transact.

I declare that I have read this document and have fully understood its contents. I further declare that I voluntarily and willingly executed this Waiver, Release, and Quitclaim with full knowledge of my rights under the law. This waiver and consent form shall be binding upon me, my heirs, assigns, successors-in-interest, administrator, and legal representatives.