Branded campaigns on social media take new shape as platforms emerge and trends arise. Early this year, Tiktok became a household name–due largely to the community quarantine that had people turning to digital outlets while coping with the pandemic.
With over 800 million active users worldwide, the app from Chinese tech company ByteDance continues to grow as a viable space where businesses can showcase and market their brands. But how does one exactly make an operable campaign out of an app that's mostly known for memes, lip syncing, and dancing videos?
Early this August, Tiktok released its first Philippine case study on how to run a successful promotional campaign using the Branded Hashtag Challenge. It centered around a specific task or "challenge" that users can recreate and share under a unified hashtag. The main goal—to make it viral and champion the brand's message across more audiences in the process.
In the case of NutriAsia, the country's leading producer and distributor of sauces and condiments, the objective was to revitalize its Silver Swan brand by appealing to a younger and more diverse market. Through the #SwanderfulMoves Challenge, Tiktok users (comprised of 41% teens globally) were introduced to the brand's redefined image as a family kitchen staple that never goes out of style.
Silver Swan, through its partner agency Tribal Worldwide Philippines, launched the campaign last May. In a span of just six days, the challenge has earned at least 18,000 tagged posts with an accumulated 132 million impressions and 22 million views. Meanwhile Silver Swan's Tiktok account, which was created along with the challenge, now has over 112,400 followers and about 323,000 engagements have been recorded on the "Oh so Swanderful" official music page.
Kickstarting the challenge, dance content creators were tapped by the brand to create the initial video that would entice their followers and other users to create their own videos. Tiktok also supported this with a 360-degree ad campaign that included feature spots on the Tiktok Music page, branded welcome ads for when users open the app, and in-feed ads to attract and drive users to participate.
But what contributed most to the campaign's success was the way #SwanderfulMoves was designed to become a dance craze. With easy-to-follow dance steps and signature moves called "Adobo Bounce, Pakswing and Sinangag Shuffle," everything was set to a catchy and upbeat jingle, "Oh so Swanderful," that has lyrics connecting to the Filipino's family-oriented sensibility.
By creating content that is appealing and relevant to a young target market, Silver Swan–a condiment brand that is usually associated with an older homemaker demographic–managed to create a strong brand recall to its millennial audience. This combination of creativity and use of in-app features allows brands to maximize the potential of a campaign to become successful and go viral even in an unfamiliar platform.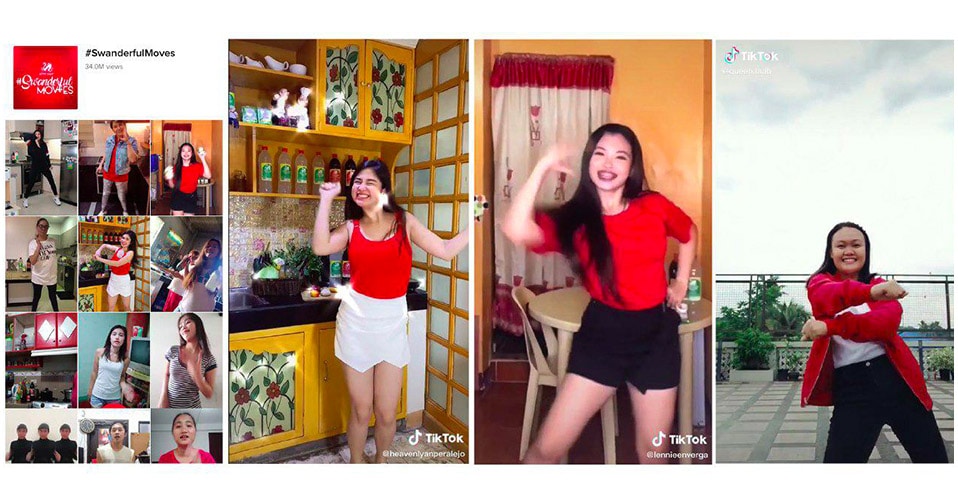 Since the launch of #SwanderfulMoves Challenge on TikTok last May, it has earned at least 18,000 tagged posts with an accumulated 132 million impressions and 22 million views in just six days.