Balancing work with household chores has become quite difficult, especially for hard-pressed mothers that have a daily task to make meals for the whole family.
In a 2014 study by North Carolina State University, sociologists found out that preparing home-cooked meals has become challenging and time-consuming for multitasking mothers from all walks of life.
"Though the mothers we met were squeezed for time, they were still expected to produce elaborate meals cooked from scratch. Even the middle-class women we talked with, who enjoyed regular work hours and typically shared the household work with a partner, said they lacked the time to cook the way they felt they should," the researchers said.
Fortunately, there are dishes that mothers can do come crunch time. Here are a few simple yet tasty recipes for the family that don't require painstaking preparations:
Hotdog Paano Ka Ginawa
Give the usual fried hotdogs a sweet twist by adding banana catsup. From birthday parties to regular everyday meals, this quick hotdog recipe will always be a hit among kids.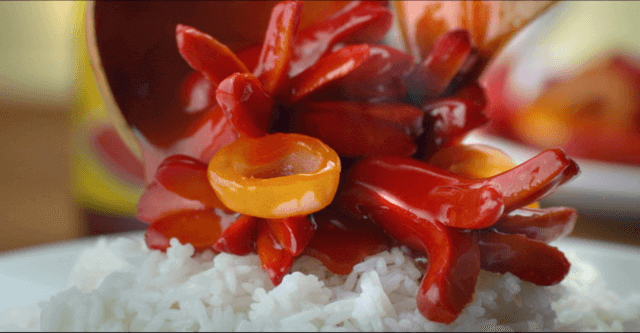 Ingredients:
2 tbsp. palm oil
6 pieces regular-sized hotdogs, sliced
3 onions, cut into rings
100g UFC Banana Catsup
2 tbsp. water
Cooking directions:
Stir fry hotdogs with cooking oil in a pan over medium heat.
Add onions and saute until golden brown.
Pour UFC Banana Catsup in the pan, and then add water. Stir and cook for two minutes or until the
hotdog slices are well-coated. Serve while hot.
Sana Giniling Muli
Pork giniling is an easy pork recipe loved by Filipinos. Potatoes, carrots, and green peas add color, flavor, and nutrition to this classic viand. Make it healthier by using banana catsup for stewing instead of tomato sauce.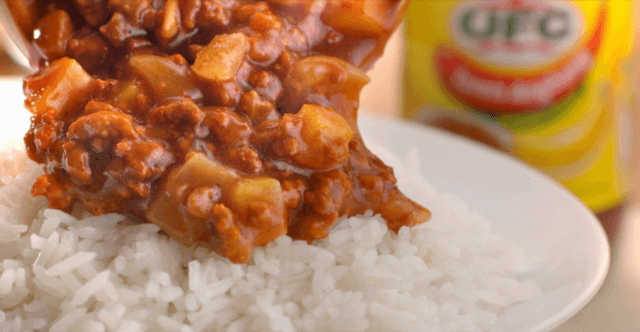 Ingredients:
1 tsp. palm oil
6 cloves garlic, minced
1 onion, minced
¼ kg. pork giniling
1 cup water
1 potato, diced
100g UFC Banana Catsup
Salt and pepper to taste
Carrot, diced (optional)
Green peas (optional)
Cooking directions:
In a pre-heated pan, saute garlic and onions.
Add pork giniling and cook until light brown.
Pour water and bring to a boil, then pour UFC Banana Catsup. Stir well and let simmer.
Add potatoes and cook for another five minutes or until vegetables are done. Season with salt and pepper. For more flavor and color, add green peas and carrots.
Sarciado Kitang Minahal
Level-up your fried fish with tamis-anghang sauce with sarciado. Fish is low-fat and rich in omega-3 fatty acids which protect against heart disease and stroke. Together with the health benefits of egg and banana catsup, the whole family can feast on a healthy and delicious fish recipe.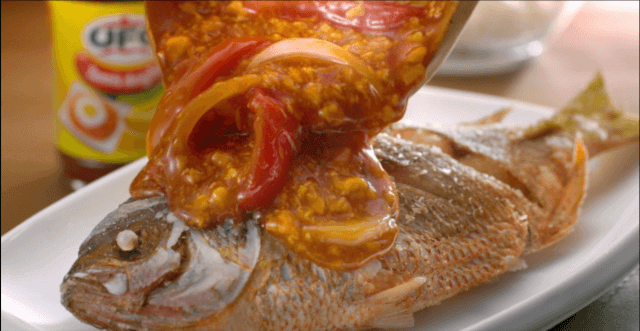 Ingredients:
½ kg fish (dalagang bukid, tilapia, or galunggong)
½ cup cooking oil
4 cloves garlic, minced
1 medium-sized onion, sliced
2-3 pieces medium-sized tomatoes, sliced
3/4 cup water
100g UFC Banana Catsup
1 egg, beaten
Salt and pepper to taste
Cooking directions:
In a pre-heated pan, fry the fish then set aside.
In another pan, sauté garlic, onion, and tomatoes. Then, add water and let it simmer for five minutes.
Mix the beaten egg in the pan. Cook for two minutes.
Add UFC Banana Catsup, stir, and simmer for one minute until catsup is mixed well.
Add fried fish in the mixture, then let it rest for another two minutes.
 Add salt and pepper to taste. Serve while hot.
These are just some of the many easy-to-prepare recipes universally loved in the Pinoy household—made tastier with the tamis-anghang formula of UFC Banana Catsup!
UFC Banana Catsup has Vitamin B6, which is good for the heart. It also gives food the tamis-anghang sarap that's perfect for dips and other quick recipes. And when purchasing a bottle or a sachet of UFC Banana Catsup, every mom now has a chance to win P1 million or a new house and lot tax-free in GMA's newest Kapuso Milyonation Raffle Promo 2017! Watch the video below to learn how to join: