Work or school days can really be stressful at times, so if you could make them a little less dull and a little more exciting, wouldn't you do it? We would. And here's our simple solution: making lunch time a fun photo opportunity.
Besides, in this ~Instagram aesthetic~ world we now exist in, everything could easily be made picture perfect, including your packed lunches. It wouldn't be a bad idea to be creative and to put some effort into your baon, right? Imagine sharing pretty pictures of your lunch on your Instagram! That can be your weekday grind motivation.
So…you like the idea but don't know where to start? We got you. Here we've prepared three Instagrammable bento baons and a quick guide on how to prepare them!
Let's get started:
3. Baon for the Bagets (And the Bagets at Heart)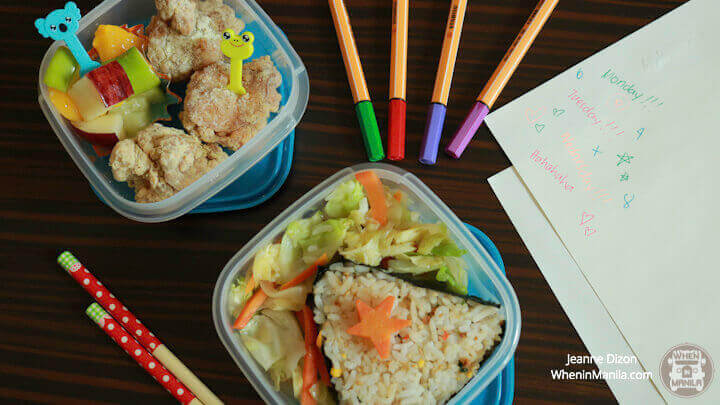 If your kid (or you) are a fan of sour cream & onion flavored-food, this baon is perfect. Make sure to include mixed veggies and fruits to get not only that nice pop of color but that meal balance, too!
WHAT'S IN THIS BAON:

Big Crunch Fry & Shake Sour Cream & Onion-flavored chicken
Rice mixed with fried rice seasoning
Mixed vegetables as side dish
Mixed fruits for dessert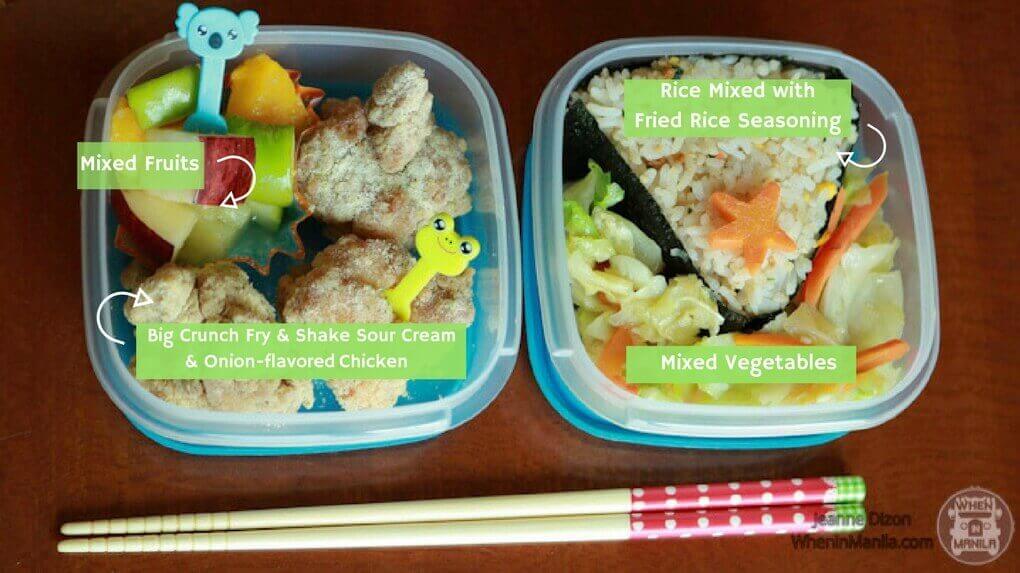 HOW TO PREPARE:
To achieve the triangle-shaped rice, use a rice molder. Line the sides of the molder with nori (seaweed wrapper) and stuff your fried rice into the middle. Carefully place your triangle rice inside your lunch container. If you don't have a rice molder, just use your hands to shape the rice, before wrapping it with nori. Voila!
Put the vegetables on the sides.
In another container, put the chicken pieces with the fruits on the side. Add cute accents like animal toppers that you can reuse for another baon!
WIM TIPS:
You can find the rice molder and those cute plastic toppers in most Japanese home stores near you. The nori and fried rice seasoning are available in the foreign goods section at most supermarkets.
Packed lunches are easier to eat when bite-sized!
Adding colorful veggies and fruits is not only for the sake of your Instagram. These brightly colored foods contain essential vitamins and minerals such as potassium, vitamin A, vitamin C, and folate. That's a win-win for your IG feed and your tummy!
2. Baon for the Working Millennial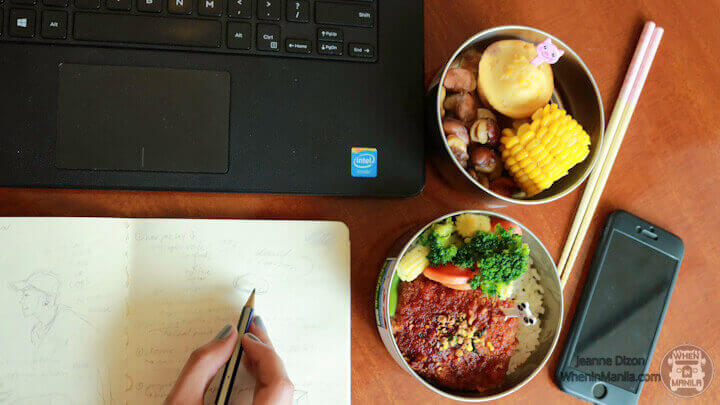 This baon will increase the levels of your excitement when the clock strikes twelve. Because not only is it certified delish, just look how pretty that looks on your tabletop.
WHAT'S IN THIS BAON:
Big Crunch Fry & Shake Barbecue-flavored breaded chicken fillet
White rice
Buttered mixed veggies (broccoli, carrots, and baby corn)
Muffin, corn on the cob, and your choice of nuts as side dishes.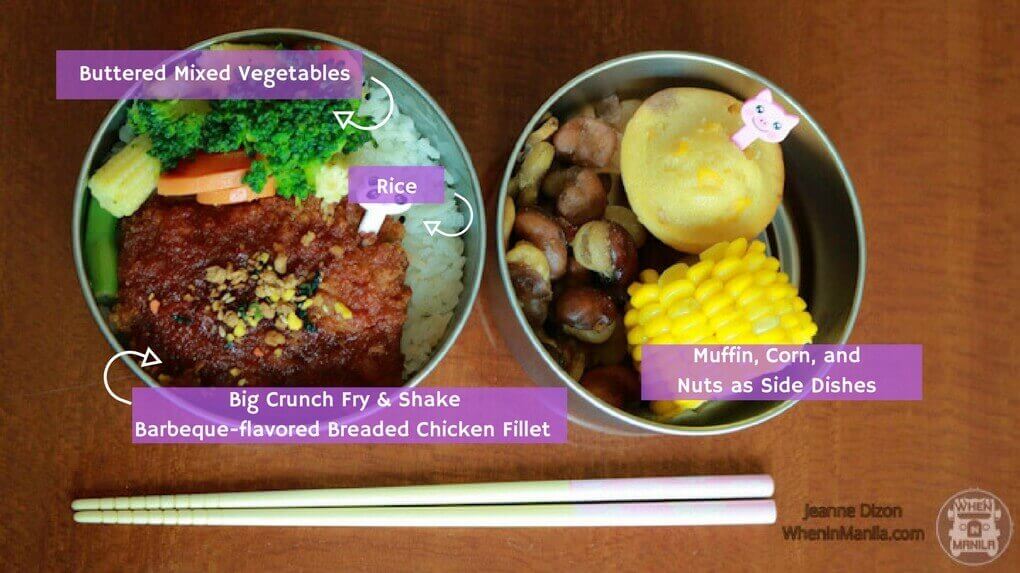 HOW TO PREPARE:
Fill in your lunch container with rice first.
Lay your barbecue chicken fillet on the top of the rice, and match it on the side with buttered mixed veggies.
In another container, simply put the side dishes

—

nuts, muffin, and corn.
To make it more Instagrammable, add those cute animal toppers!
WIM TIPS:
You can make the baon more "you" by using a container of your favorite color. Although, those stainless steel containers are a classic!
In psychology, including something yellow on your food, like corn, actually releases serotonin

—

that's the hormone that triggers happiness!
You can prepare your side dishes already the night before

. 'Cos 

we must admit, we have the tendency to cram in the morning!
1. Baon for a Tough Day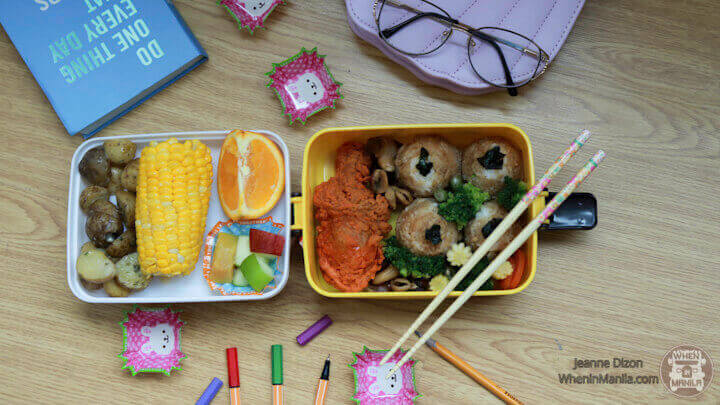 This is definitely #baongoals for those who have upcoming examinations, presentations, or a jam-packed schedule of important events. Basically, this is the ultimate baon for anyone who will face a tough day ahead.
WHAT'S IN THIS BAON:
Big Crunch Fry & Shake Cheese-flavored chicken
Fried rice
Mixed veggies
Potato marbles
Corn on the cob
Mixed fruits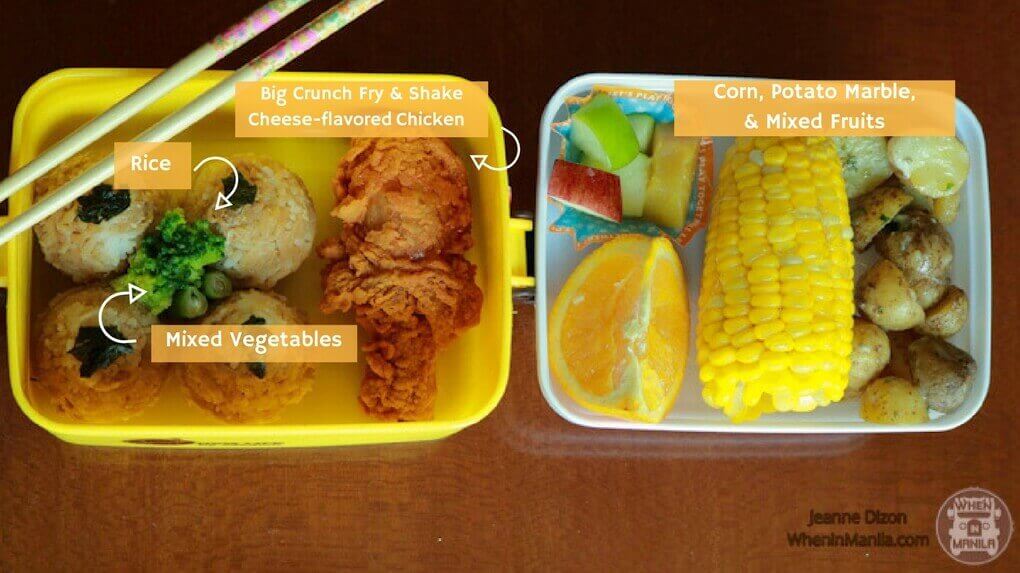 HOW TO PREPARE:
Use a rice molder that shapes rice into balls. Mold as many as you like! If no molder is available, use your hands.
Put the rice balls in the container, and place your cheese-flavored chicken on the side. Use the mixed veggies to fill the spaces in.
In the next container, put in your side sides

—corn on the cob, potato marbles, and of course, fresh fruits!
WIM TIPS:
Experiment on your own flat lays. Also, lighting is essential, so capture your photo near the window or anywhere where there is sunlight. Because natural lighting is everything!
Include a slice or two of oranges. We all know that oranges give off vitamin C which helps our bodies form amino acids that regulate energy levels. Ditch those energy drinks for the real thing!
If not potato marbles, include sweet potatoes, instead. These are good for snacks, too. Sweet potatoes or starchy veggies keep you energized and reduce feelings of hunger in between.
That's it! Prepare your own baon is so efficient especially if you're saving money. Plus, making it Instagram-worthy makes it fun and enjoyable. How about trying these ideas this week?
And for people who don't have a lot of time to cook, UFC Golden Fiesta introduces their newest product, Big Crunch Fry & Shake, which we used for our Instagrammable baons here. It makes our busy lives so much easier by just following three steps: bread, fry and shake! It comes in three different flavors, too—Cheese, Barbeque and Sour Cream & Onion.