The 1st Asia edition of Kantar's Brand Footprint report has cited top soy sauce brand Silver Swan as one of the top 5 most chosen food brands among Filipino consumers.
The regional report ranked Silver Swan as the country's #4 overall most chosen brand with 486 million consumer reach points within the survey period. Consumer reach point refers to the total frequency that Silver Swan was bought by Filipino households.
"Consumers are becoming more discerning, informed and well-traveled. As a result, they are exposed to more options, ideas, products, and perspectives. All this influences, shapes and changes their perception and demands to where making a purchase is not just about a product, but what else the brand offers, including a complete shopping experience for them as consumers," according to CEO Marcy Kou of Kantar, the agency behind the report.
The Asia Brand Footprint report specifically focuses on Asian markets – China mainland, Indonesia, South Korea, Malaysia, Philippines, Taiwan and Vietnam.  The ranking of the most chosen FMCG brands in each local market reveals which brands are achieving success.
A trusted partner of Filipino households, Silver Swan today offers a wide array of condiments and food products that includes not only soy sauce but vinegar, fish sauce, salted black beans, chili sauce, hot sauce, oyster sauce, and Worcestershire sauce.
Established in the early 1940s, Silver Swan began its journey with the manufacture of soy sauce in Malabon. The brand name Silver Swan was derived from the name of its original owner, the late Mr. Sy Bun Suan, who set up a small-scale family-owned venture in Manila's Chinatown. Today, Silver Swan has become an integral part of Filipino households consistently delivering perfectly balanced taste to every dish the family loves and enjoys.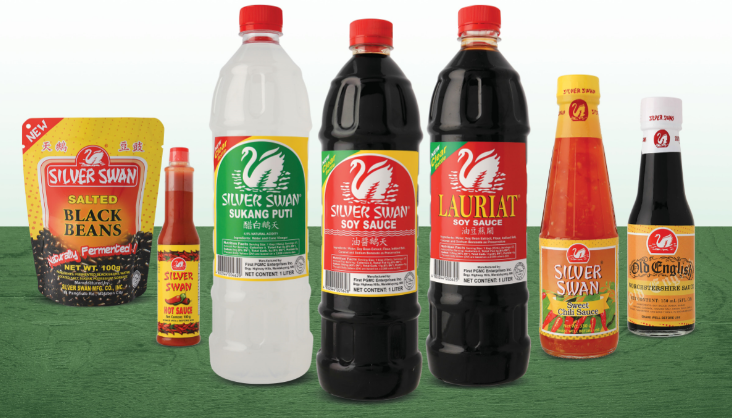 Silver Swan has expanded its production of condiments and food products from soy sauce to vinegar, salted black beans, sweet chili sauce, hot sauce, Worcestershire sauce and more.