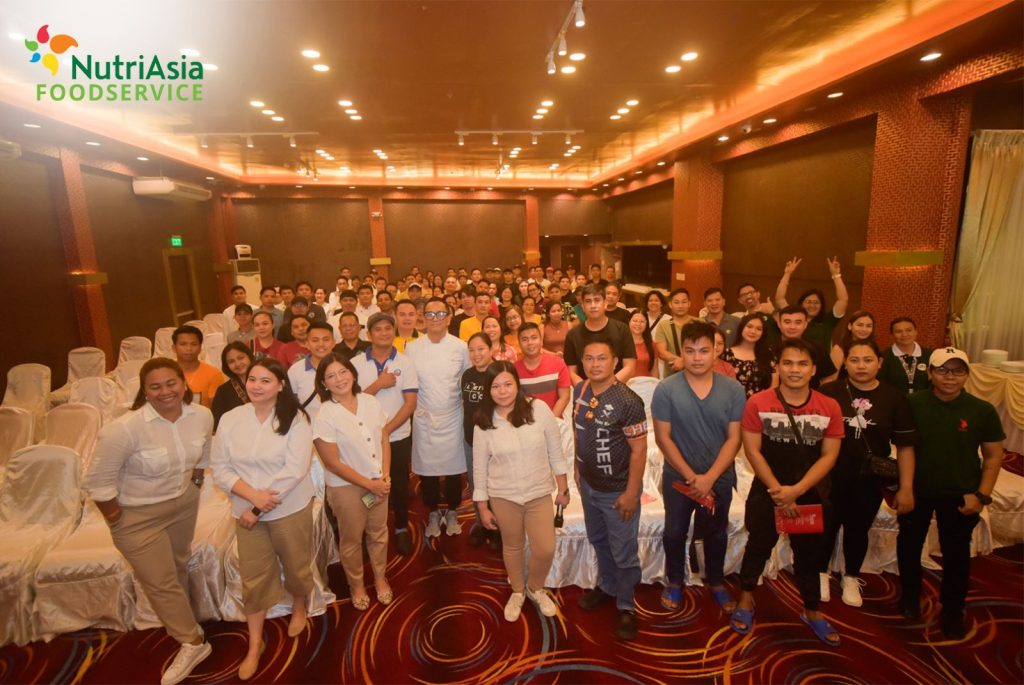 NutriAsia Foodservice products are now also available in Boracay, bringing more Masarap Masaya moments for locals and tourists.
(MANILA, Philippines) – Leading condiments and sauce maker NutriAsia recently announced its newest flavors for the out-of-home industry during a private get-together with professional chefs and restaurateurs. Aptly titled "NutriAsia Foodservice Flavors", this special roadshow was held in Boracay where the company also announced that its range of foodservice solutions are now available for local businesses in the island.
For over three decades, NutriAsia has been a credible and dependable partner for both food professionals and entrepreneurs. Now, it is extending that service to those residing in Boracay so they too can serve Masarap Masaya dining moments to their customers, especially as the island continues to experience surges in local tourism and receive thousands of visitors every month looking to "revenge travel".
With NutriAsia Foodservice, business owners now have easier access to its iconic and beloved brands including Datu Puti Oyster Sauce, Golden Swan Liquid Seasoning, Jufran Sriracha Hot Sauce, and Canned Veggies such as UFC Coconut Cream, UFC Whole Corn Kernels, and UFC Mushroom Pieces & Stems.
"NutriAsia is committed to helping chefs and restaurateurs discover the many ways they can elevate their dishes and create more delightful dining moments with our versatile sauces and condiments," said Leah T. Barin, NutriAsia FoodService Group Head.
NutriAsia Foodservice Flavors is the perfect opportunity for business partners to learn more about the range of NutriAsia flavors they have at their disposal. For its Boracay run, the company also collaborated with the incomparable Chef Sau del Rosario who flew in to share new cooking techniques to help them create more delicious dining moments and inspire guests with a special demonstration where he prepared three flavorful dishes using NutriAsia flavors. These included a Boneless Thai Fried Chicken featuring Datu Puti Oyster Sauce and Jufran Sriracha Hot Sauce, Seafood Paella using UFC Coconut Cream, and Cochinillo using Golden Swan Liquid Seasoning and Mang Tomas Lechon Sauce—all of which successfully showcased the variety of NutriAsia flavors and its flexibility to fit a number of Asian and Western dishes that customers crave.
When asked about his secret to cooking good food, Chef Sau reiterated that it always starts and ends with the ingredients: "Let's talk about Filipino food. My secret is not extreme like others. I have very classical traits and so I apply classic techniques. However, I think that the main reason we have good food is that it comes from good ingredients."
"No matter where you are in the world, as long as you have that, it will work. With the likes of Datu Puti or Golden Swan soy sauce, these are now so accessible so there's no reason for us to not bring out the best Filipino food every time we cook. The nice thing too about these ingredients is that they represent us. It elevates the flavor and identifies us as good cooks and as Filipinos," added Chef Sau.
For Foodservice operators that are interested in NutriAsia products, kindly contact VEE-EM Sales Co. at (033) 320-8078 or (033) 501-3640.
---
About NutriAsia
Nutri-Asia, Inc., is the Philippines leading manufacturer of condiments and sauces with products found in every Filipino household. Among its best-known brands are Datu Puti, Silver Swan, UFC, Papa, Mang Tomas, Jufran. Golden Fiesta and Locally.
For media inquiries:
Pam Cruz
Media Relations Manager
pam.cruz@bateschi.com
(+63) 917-868-7359