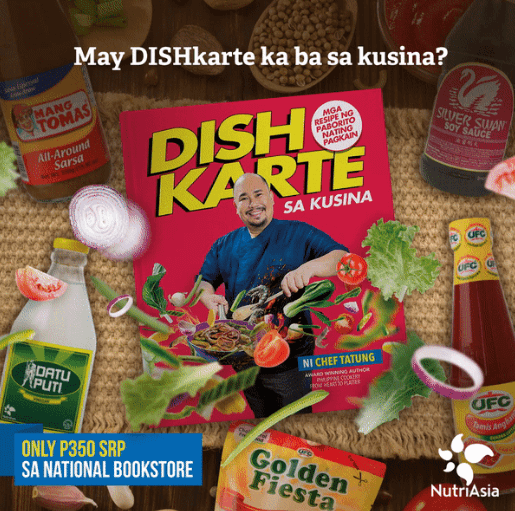 NutriAsia and Chef Myke "Chef Tatung" Sarthou partner for cookbook DISHkarte sa Kusina featuring easy-to-follow recipes and useful kitchen hacks. The book is available at National Bookstore for P350.
NutriAsia, the leading producer and distributor of sauces and condiments in the Philippines, has partnered with celebrity chef Myke "Tatung" Sarthou (Chef Tatung) as corporate sponsor of the cuisinier's latest cookbook titled "DISHkarte sa Kusina (Ingenious techniques in the kitchen)."
Through DISHkarte sa Kusina (DISHKarte), NutriAsia hopes to further bring the "Masarap, Masaya" experience to more homes. Published by ABS CBN Books, Chef Tatung shares in his new book delicious easy-to-follow recipes and very useful kitchen hacks with readers, including tips that everyone must know in storing, preparing and cooking food in various ways.
NutriAsia and Chef Tatung are seen as ideal partners in a culinary project like "DISHkarte," which aims to make delicious food achievable in home kitchens where mothers, and all homemakers for that matter, prepare the most delectable meals for the entire family. Just like NutriAsia, Chef Tatung and "DISHkarte" make cooking meals easier and more enjoyable.
"We congratulate Chef Tatung for coming up with 'DISHkarte' that makes cooking delicious food fun and easy, while imparting streetsmart techniques on food storage and preparation. This is why we are proud to be the corporate sponsor of the said book," said James Lim, NutriAsia's Head for Corporate Marketing and Communications.
Chef Tatung is Umagang Kay Ganda's resident chef and award-winning author of "Philippine Cookery: From the Heart to Platter." He is known for his easy-to-follow recipes of Filipino meal favorites. On the other hand, NutriAsia is known for its iconic condiments and sauces under leading brands such as Datu Puti, Silver Swan, Mang Tomas, UFC, and Papa Catsup.