Your suki street food vendor may be nowhere in sight these days, but that doesn't mean you can't enjoy some of your favorite food cart goodies at home. Why not recreate the experience in your kitchen, complete with skewer sticks and an array of sauces to boot?
Whether deep-fried, grilled, or fresh, these street food delights are sure to stir up memories of having merienda on the street with co-workers and friends, exchanging stories while eating off a barbecue stick, a paper cup, or a brown bag. Until you can finally schedule your next hangout, try these 4 recipes at home—all easy to prepare using ingredients from your pantry. Put your apron on and start cooking!
Lumpiang Gulay
Go healthy with these veggie-filled rolls fried to a crisp.

To make the filling: Sauté 2 tsp crushed garlic, 1 piece onion (sliced), and ¼ kg lean ground pork until slightly brown. Season with 1 tsp UFC Iodized Salt and ½ tsp UFC Ground Pepper. Add 3 cups kamote (cut into strips). Cover and cook over low heat for 5 minutes. Add 2 cups shredded cabbage and 1 cup togue. Cook for another 2 minutes.
To assemble: Prepare 20 pieces square or round lumpia wrappers. Wrap 2 to 3 Tbsp of pork and vegetable mixture in each lumpia wrapper. Seal edges with egg wash.
To cook: Fry lumpia until golden brown using 2 cups Golden Fiesta Palm Oil.
Serve with ¼ cup Papa Banana Catsup.
Fiesta Turon
Feast on this classic crunchy snack with ube jam or langka.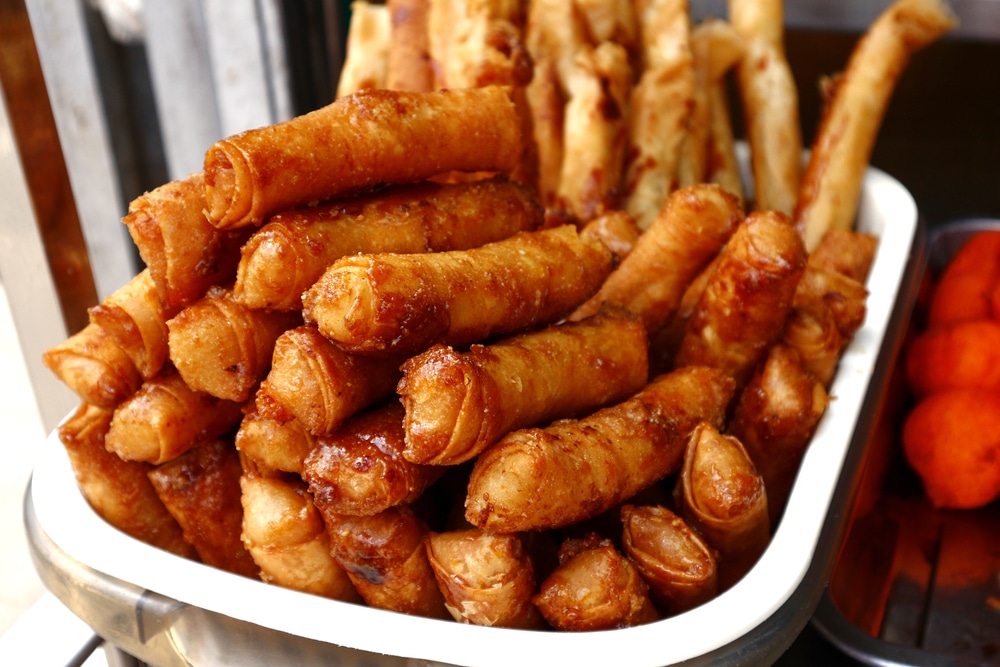 To prepare filling: Slice 4 pieces of saba in half, lengthwise. Coat each piece of saba with ½ cup brown sugar. Prepare 8 pieces lumpia wrapper.
To make turon with ube filling: For each lumpia wrapper, spread 1 Tbsp ube jam at the center, then place a slice of sugar-coated banana.
To make turon with langka filling: Slice 2 pieces of langka in half, lengthwise. Place each half of langka on top of the sugar-coated banana before wrapping.
To wrap: Fold the bottom half of the wrapper over the banana. Secure the edges by brushing with water, then fold the left and right sides of the wrapper toward the center. Seal with water. Continue to roll upwards to close, then seal with water again.
To cook: Heat 1 cup Golden Fiesta Palm Oil in a pan over medium heat. Add ¼ cup brown sugar. Once the brown sugar starts to float, gently add in the turon rolls and fry both sides until golden brown, about 4 minutes on each side. Roll each turon in the pan to coat it with caramelized sugar.
Optional: Add 2 Tbsp brown sugar, but make sure not to burn the sugar.
Arroz Caldo
Squeeze calamansi on top to enjoy this rice porridge.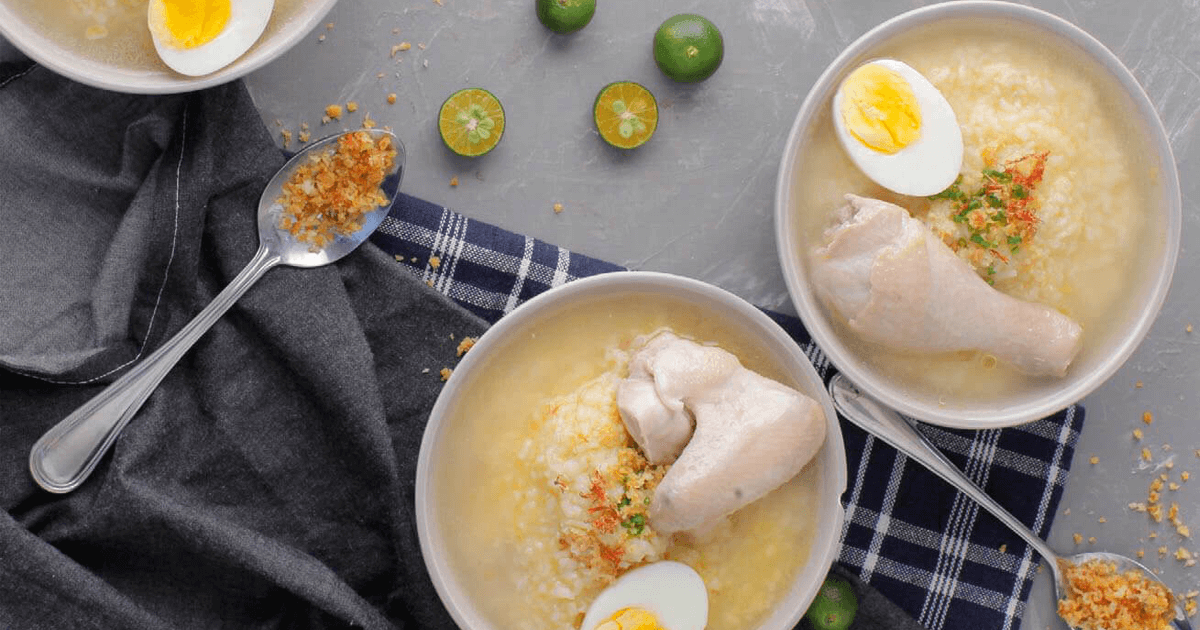 To make chicken stock: In a pot, heat 2 Tbsp Golden Fiesta Palm Oil. Sauté ½ cup diced white onions and 3 cloves garlic (crushed). Add ½ kg chicken neck, back, and wings (bone in) together with 8 cups water.
To prepare chicken: Remove chicken from broth. Flake chicken meat and set aside.
To cook rice: In a pan, sauté 3 Tbsp chopped white onions, 3 cloves garlic (crushed), and 3 Tbsp sliced ginger until fragrant. Add chicken flakes and ¼ kg chicken wings and legs. Season with 1 Tbsp Datu Puti Patis. Add 1 ½ cups malagkit rice, 7 cups stock, and 1 Tbsp kasuba. Simmer until cooked, about 25 minutes. Add more chicken stock if you think the rice needs to cook longer.
To assemble: Top arroz caldo with 1 hard-boiled egg (sliced), 3 Tbsp fried garlic, and 3 Tbsp spring onions. Serve with ¼ cup Datu Puti Patis on the side.
Ukoy
Who doesn't love these Pinoy fritters especially when dipped in vinegar and garlic?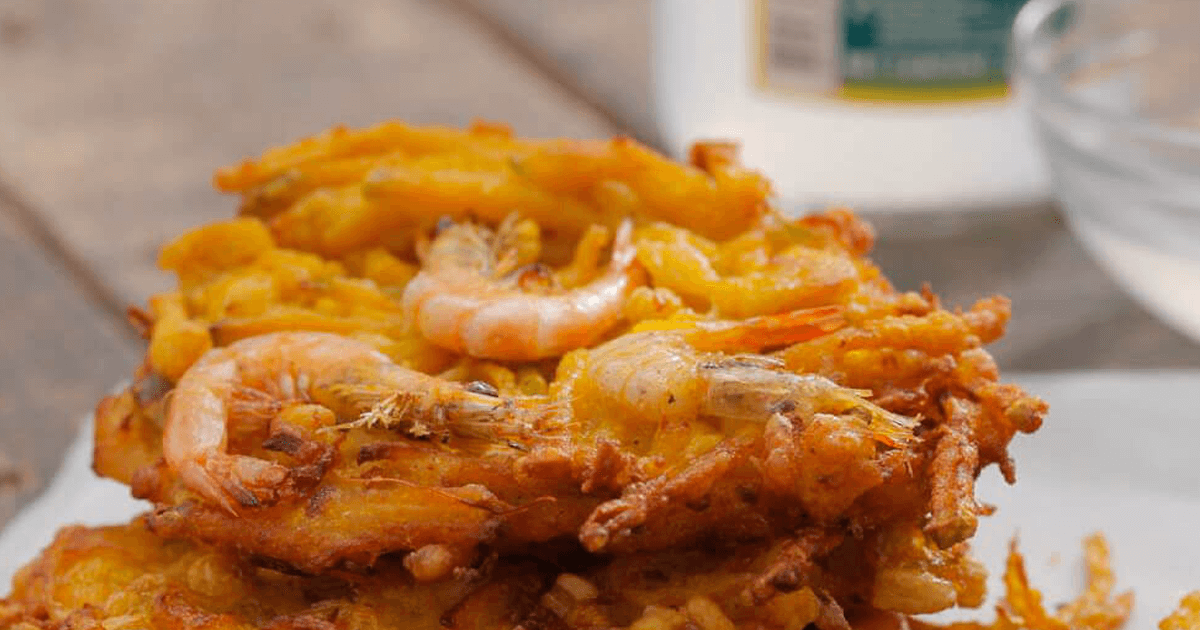 To prepare ukoy mixture: Combine 1 cup fresh alamang, 1 cup kalabasa strips, ¼ cup togue, ⅓ cup cornstarch, and ¼ cup water. Season with ½ tsp UFC Iodized Salt and ¼ tsp UFC Ground Black Pepper.
To make annatto oil: In a pan, heat ¼ cup Golden Fiesta Palm Oil. Add 1 Tbsp annatto seeds then turn the heat off. Allow seeds to steep for 5 minutes. Discard seeds and add the annatto oil to the ukoy mixture. Mix well.
To fry ukoy: Heat 2 cups Golden Fiesta Palm Oil in a pan. Add ¼ cup of the ukoy mixture, forming a circle at least ¼-inch thick, and fry until golden brown.
To make the dipping sauce: Combine ½ cup Datu Puti Vinegar, 2 cloves garlic (minced), and ¼ tsp UFC Ground Black Pepper. Serve it on the side.
Can't wait to go out again to get your fill of lumpia, ukoy, and arroz caldo? In the meantime, save this page for when those insatiable street food cravings hit you.
For more recipes to try at home, go to Nutriasia.com.