The new normal for your kids' schooling is off to a start! Next on your to-do list after school supplies shopping is planning your menu. With no access to the school cafeteria, your kids will rely on what you serve for recess, lunch, and after-school snack time!
Think of it as a challenge to come up with fresh baon ideas, and take this chance to get your kids to try new flavors and healthy dishes. We're helping you get started with these 6 recipes so you can give them something yummy to look forward to after a long day in school, online!
This all-time favorite combines sweet and tangy flavors.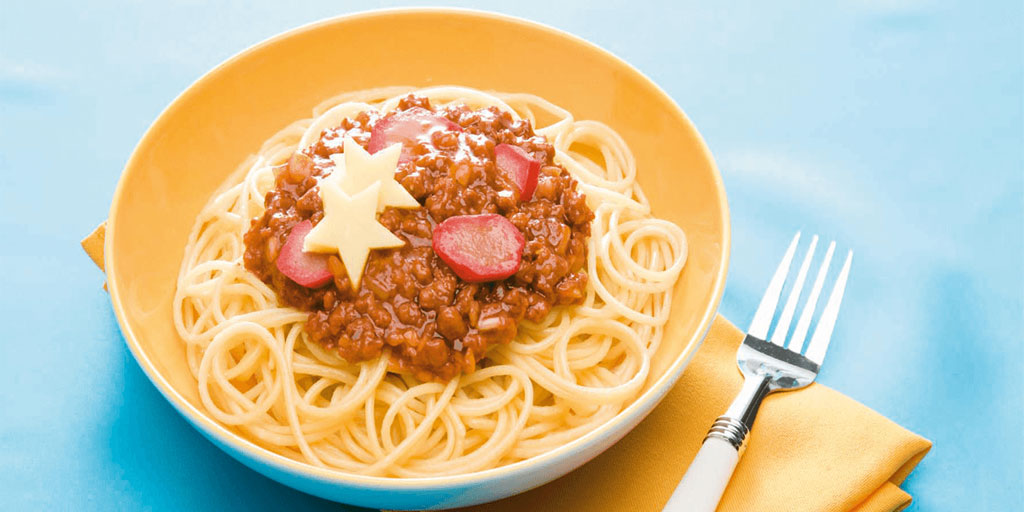 To prepare pasta: Cook 1 kilo spaghetti according to package directions. Toss cooked pasta in 1 Tbsp melted butter. Keep it warm.
To cook  sauce: Heat 1 Tbsp Golden Fiesta Canola Oil and 1 Tbsp butter in a skillet. Sauté 1 piece onion (diced) and 1 Tbsp minced garlic. Add 1 ½ cups sliced hotdogs, and sauté for another minute. Add 500 g ground beef, and cook until the juice or oil comes out, about 20 minutes. Skim off fat. Stir in 2 kg UFC Spaghetti Sauce together with ½ tsp UFC Iodized Salt and ½ tsp UFC Ground Pepper. Cover and simmer for 5 minutes to blend the flavors. Serve spaghetti with ½ cup grated cheddar cheese.
Eye-catching, bright-colored veggies make this dish healthy and attractive.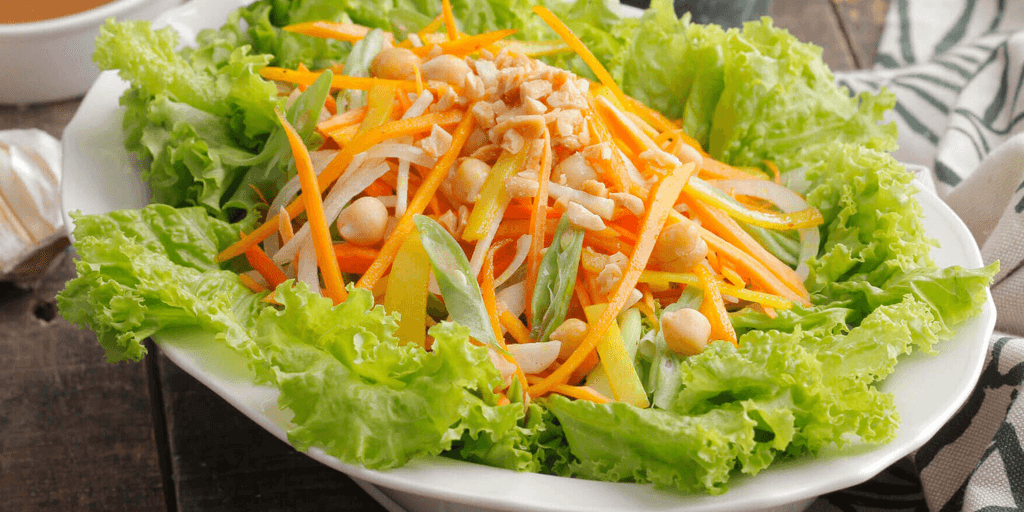 To make the veggie mixture: In 3 Tbsp Golden Fiesta Canola Oil, sauté 2 cloves garlic (crushed) and 1 piece medium onion (sliced). Add the rest of the vegetables: 1 cup thinly sliced kamote, ½ cup thinly sliced singkamas, ½ cup thinly sliced carrots, ½ cup thinly sliced Baguio beans, and 3 Tbsp cooked garbanzos (optional). Season with 1 Tbsp Datu Puti Patis and ¼ tsp UFC Ground Pepper.
To make the sauce: In a pan, combine 1 cup water, ¼ cup Silver Swan Soy Sauce, ½ cup brown sugar, 2 cloves garlic (crushed), and 1 Tbsp cornstarch dissolved in water. Simmer while continuously stirring until it thickens. Set aside.
To assemble: Arrange leaves of 1 small head (120 g) lettuce on a plate. Place veggie mixture and top with the sauce. Add the following toppings: ¼ cup ground peanuts, 3 Tbsp garlic, and ¼ cup UFC Ground Pepper.
Who knew you could pack so many healthy ingredients in these juicy patties?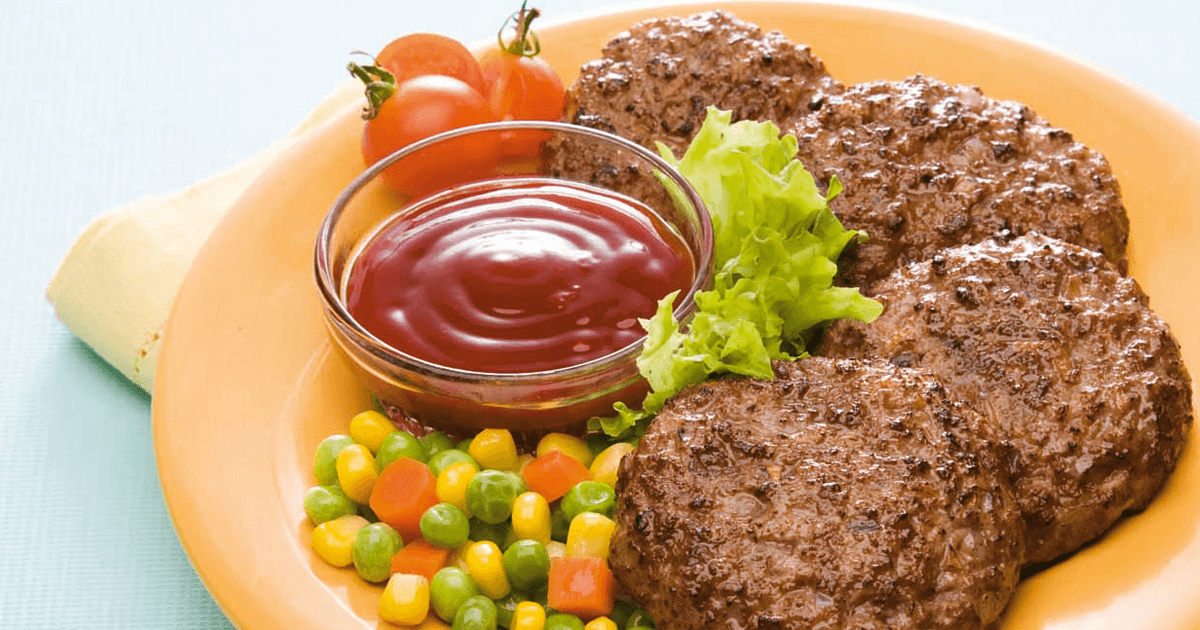 To make the patties: Combine 500 g lean ground beef, ½ cup instant oatmeal, 1 onion (minced), ½ cup cheddar cheese, 2 tablespoons Datu Puti Soy Sauce, ½ cup milk, and 1 beaten egg. Divide the mixture into 10 portions, and roll each portion into a ball using your palm. Flatten the ball mixture into a patty, to the thickness you desire, making sure all cracks are sealed evenly.
To cook: Heat 1 Tbsp Golden Fiesta Palm Oil in a frying pan. Fry each side of the patty for about 4 minutes.
To serve: Place ½ cup UFC Banana Catsup on the side.
The surprisingly sweet taste will get your kids hooked on this snack.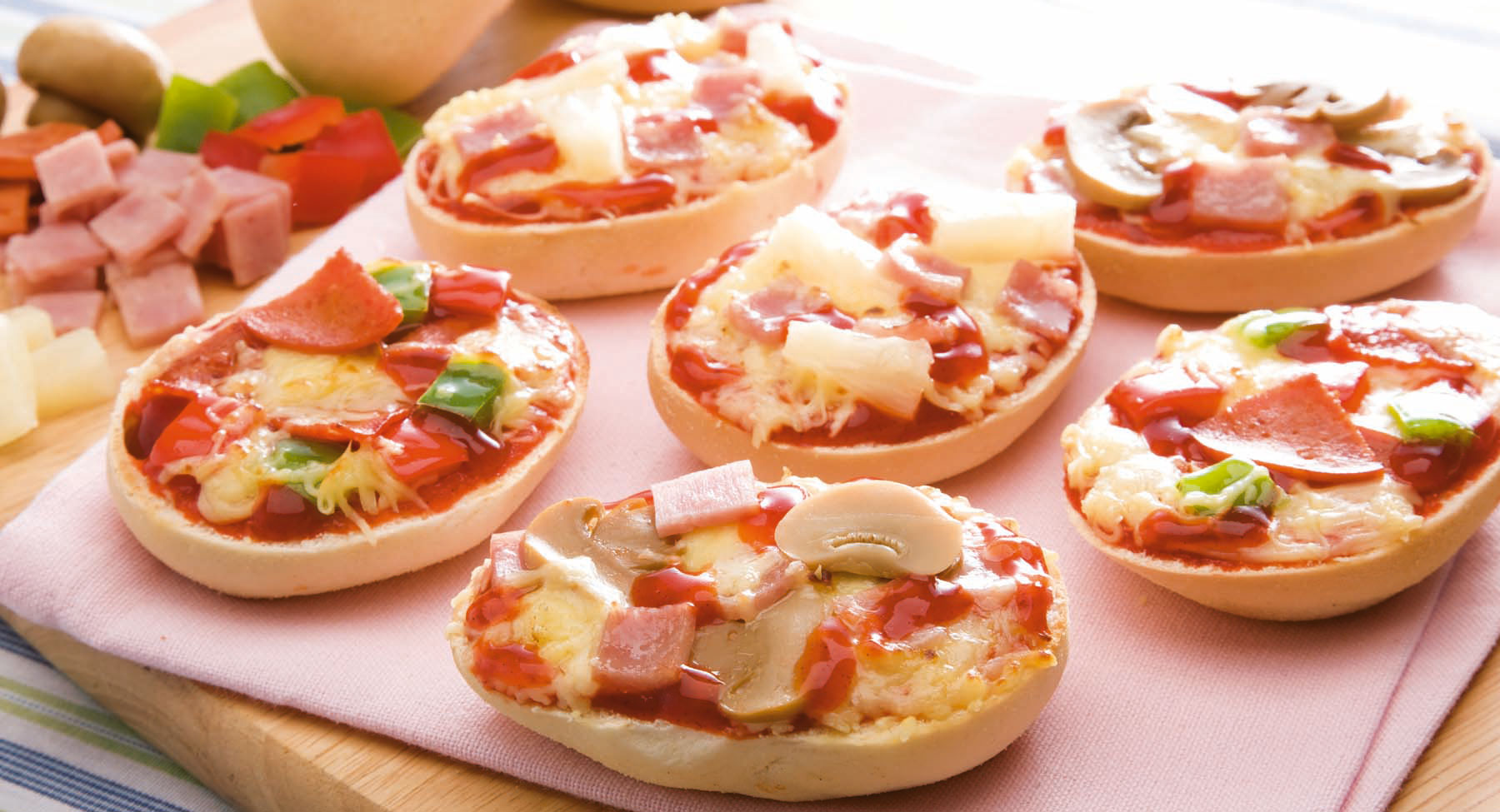 To prepare: Preheat oven or oven toaster to 350°F. On a baking tray, arrange 6 pieces pan de sal leftovers (each sliced in half). Spread ¾ cup Papa Banana Catsup on each slice.
To make 3 flavors: Place 4 slices pepperoni and ½ piece red or green bell pepper (seeded and chopped finely) on 4 slices of pan de sal. Top 4 other slices with ½ cup pineapple tidbits and 2 slices of ham (chopped). Top remaining 4 pan de sal slices with 2 slices of ham (chopped) and ½ cup button mushrooms (sliced). Finish off with a final layer of 2 cups grated cheddar cheese.
Bake for 6 minutes, until the cheese melts and turns slightly golden brown.
Make several batches of this vitamin-loaded treat!
To prepare: Preheat oven to 350°F. Line muffin pan with 16 cupcake liners. Set aside.
To make the batter: Whisk together 2 large eggs, ½ cup Golden Fiesta Canola Oil, and ½ cup sugar. Set aside. In another bowl, sift together 1 cup cake flour, 1 ½ tsp baking powder, ½ tsp baking soda, and ¼ tsp UFC Iodized Salt. Scoop half of flour into the egg mixture. Stir to combine. Add ¼ cup calamansi juice then stir. Add remaining flour. Scoop batter into the prepared pan. Make sure each muffin cup is only ¾ full.
To cook: Bake for 20 minutes, or until a toothpick inserted comes out clean. Cool on a wire rack. Sprinkle on top with ½ cup powdered sugar (sifted).
The familiar taste of bacon will get your little ones to take a sip.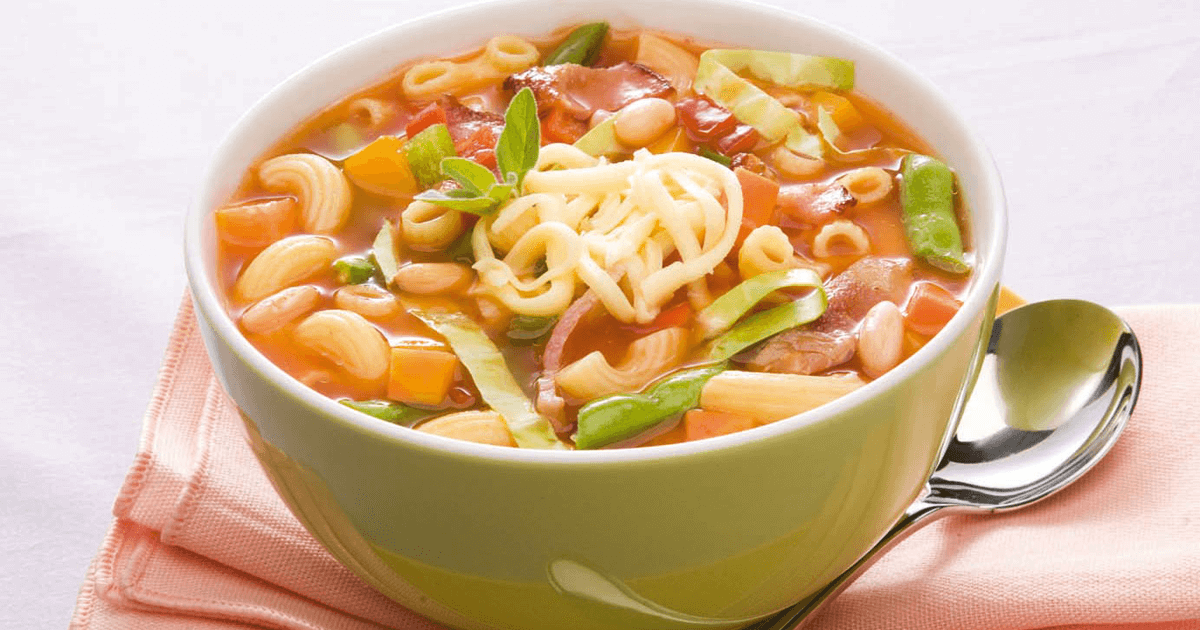 Sauté ½ piece onion (minced) and 1 tsp minced garlic in 1 Tbsp Golden Fiesta Canola Oil. Add 4 strips bacon and cook until it browns, about 3 minutes. Pour in 4 cups water and bring to a boil. Add ½ up Baguio beans (cut into 1-inch lengths), ¼ cup chopped green bell pepper, ¼ cup chopped red bell pepper, and 2 celery stalks (sliced). Lower heat and let it simmer. Add 1 can (200 g) white beans (rinsed and drained), ½ cup elbow macaroni, ½ cup chopped carrots, and ¼ cup chopped squash. Add 1 cup shredded cabbage last, when pasta is almost done and vegetables are tender. Season with 1 ½ cups UFC Tomato Sauce Sweet Style, 1 tsp fresh basil leaves (sliced), 1 tsp fresh oregano leaves (sliced), ½ tsp UFC Iodized Salt, and ½ tsp UFC Whole Pepper. Serve with 5 Tbsp grated cheese on top.
Homeschooling or online schooling is already challenging enough for both you and your kids, so don't let menu planning add to the stress. Have these recipes on standby by bookmarking this page now. Add your own twist or adjust the taste to your child's liking, and you'll end up with more than enough recipes to last the entire school year!
For more baon ideas to try, go to Nutriasia.com.